Inn-credible Specials
4 Night Special*:
Stay any 4 nights Sunday-Thursday get 20% off.
Sunday's and Thursday's on Sale*:
Stay Friday and Saturday(both nights) and add Sunday or Thursday for 1/2 price.
Available September through May
Murder Mystery Weekend:
Cost: Overnight starting at $189 inclusive Show is $45.00
B.Y.O.B.
Menu includes:
Fresh greens salad with house dressing
Buffet Choices include:
3 specially prepared entrees which compliment the evenings theme
Accompanied by fresh vegetables and Secret Garden wild rice with lemonade, iced tea, coffee, tea or Decaf. House special dessert.
* Advance reservations required; Not available on holidays and during special events, based on availability, may not be combined with any other discounts.
---
2010 Line-up of our award winning Murder Mystery:
"Oy, A Moyda!"
March 19
Michael and Lauren O'Toole invite you to share our joy as we celebrate the Bar Mitzvah of our son Seth Liam.

---

"Assisted Murder" by Paige Stevenson
April 16th, May 21st, June 25th
On Family Day at Shady Dells Nursing Home, residents, their relatives, and employees are all enjoying the vaudeville show put together by some of the residents... until the feisty, hard-drinking octogenerian, Tess Casey, is murdered and her husband, Dick Casey, tries to solve the crime.
Shows start at 7:30pm please arrive by 7:15.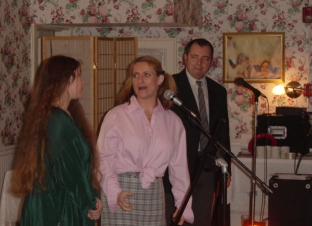 ---
Past Show include:
"Speak Easy, Die Hard"
"Hillbilly Wedding Massacre"
"Die Laughing"
"6 Feet Over"
---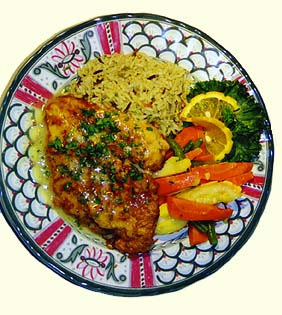 Click on the fingerprint....



I.T. Productions &
The Manchester Inn Present
Monthly Award Winning
Murder Mystery Dinners
Advance Reservation only
732-775-0616
---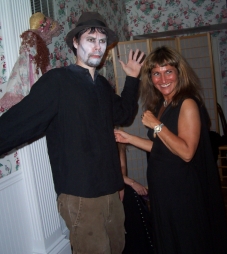 Witches Brew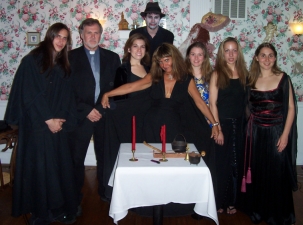 Witches Brew Cast